NEW KIDS ON THE SHLOCK DEPT.
It isn't easy being America's most popular pre-pubescent pop trio! Between coping with the screaming fans, the daily Clearasil applications and the constant mall riots, Isaac, Taylor and Zac don't have much time to sit down in their parents' garage and sort through mail sacks filled with these moronic...
Letters To Hanson







February 12, 1998
(sixth letter of the day!)

Dear Hanson,
---
Reason #2,846 Why Hanson is the greatest: the way Isaac flips his hair
---
Reason #2,847 Why Hanson is the greatest: Taylor's left dimple
---
Reason #2,848 Why Hanson is the greatest: Zac's cool robot dancing on stage
---
Sorry I can't list more reasons now, but my parents have this bogus idea that I'm obsessed with you and have limited me to only ONE ream of paper per week! (And they say fascism is dead!)
---
Love Love Love Love


Me (Again!)







LAURA
FINSTERMARCHE
2329 HOUSEWIFE LANE, PEORIA, IL 3/
Dear Hanson,
I am the mother of four teenagers and I just want to applaud you for being such fine, upstanding role models for today's youth! In this age of "Grundge Rock" and "Beavis and Butt-man," it's rare to find performers as happy and cheerful as you three ladies!
(And don't worry, girls — those breasts will start growing before you know it!)
Sincerely,
Laura Finstermarche
Dear Hanson, (I love you)

I love you guys so much, I recently got tatoos of your names and faces all over my body! My older brother (he's in High school!!!!!!) says this was stupid because even though you seem big now, you're probably a flaver-of-the-month who'll be nothing but a trivia question next year ---> and I'll be stuck with dumb tatoos for the rest of my life!!!!!!
Isn't that the silliest thing you ever heard?
Everyone knows Hanson will


RULE FOREVER!!!!!!


Love,


Missy Maxwell

P.S. Who are the "New Kids On The Block" and "Menudo" my IDIOT brother keeps bringing up??
from the desk of
Louise

Dear Hanson,


     Call me weird,  but I'm a baby-boomer mom who's 
always gone for high-concept/low-talent musical 
groups—from the Monkees and the Partridge Family of my 
youth, to Bananarama and Milli Vanilli of the '80s, 
and even, for a brief time, being sucked in by 
Hanson-Mania along with my kids.

     That is, until I recently discovered the awful 
and disgusting truth about your group: you actually 
write your own songs and play your own 
instruments! What a dastardly fraud to commit on 
legions of fans who pay good money thinking 
they're hearing the best studio musicians out there, 
being lip-synched by pretty-boy front 
singers without an original thought in their 
head!


SHAME ON YOU!!!


An EX-Hanson fan!!!

Dear Hanson,

What a bunch of wusses you are! That girl hair! Those fey hand gestures! All that mincing around onstage! I mean, c'mon, there's a certain level of "flaming-ness" that's just too much — even for me!

Straighten up,
for God's sake!

Sincerely,

Richard Simmons
Hey Hanson!
Okay, it's time we had it out! The teen-hunk world isn't big enough for the both of us! Meet you in the alley behind Tiger Beat magazine this Saturday

(Our curfew is at 10:00!)

Signed,
The Backstreet Boys
Dear Hanson,

You are the SWEETEST CUTEST SWEETEST! I'll bet you'd all be the best boyfriends!! I'll bet you'd LOVE a girl even if she wasn't the smartest or the best looking! Why, I'll even bet you'd LOVE a girl who had braces, thick eyeglasses, many zits or was a few pounds overweight, Even if she was retaining water because of the stress of dealing with her bratty sister Elane/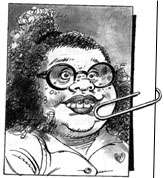 Dear Hanson,
I'm a twelve year-old girl who had a huge crush on the three of you. That is, until my therapist explained what was really going on: she said that you embody a "non-threatening masculinity" which enables me to fulfill my immature romantic desires without the "phyical demands" of "real boys," which could "prove damaging to someone at my fragile psycho-sexual age."
So now, I think YOU SUCK!
Alexandra
Whistle
Upper West Side, New York, NY
DEAR ZAC, YOU YUMMY BOY,
I'M A 42 14 YEAR-OLD MAN GIRL, WHO JUST LOVES SURFING THE INTERNET AND TROLLING LOOKING FOR NEW MEAT NEW FRIENDS! WHEN I STUMBLED UPON ONE OF THE 3,000 HANSON WEBSITES AND SAW YOUR FACE—WELL, I JUST HAD TO WRITE!
I KNOW THIS IS KIND OF SUDDEN, BUT COULD YOU COME VISIT ME? I'LL EVEN SEND YOU A ONE-WAY BUS TICKET, AND PUT IT ON MY VISA MY PARENTS' VISA CARD!
PLEASE, PLEASE COME—AND DON'T TELL ANYBODY!
YOUR NEW PAL,

Gus Trish